India is no longer a minority player in the world mobile market. According to this study by Counterpoint, India has overtaken USA to become the second-largest smartphone market in the world, behind China.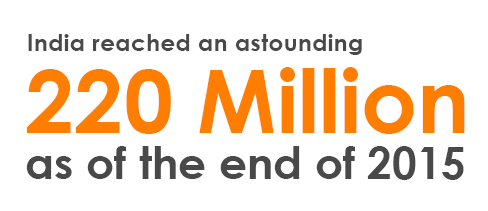 The study goes on to say that the smartphone user base in India reached an astounding 220 million as of the end of 2015, beating the US market for the first time in history. This means that there is a greater opportunity than ever before to reach a massive segment of the Indian population through mobile internet.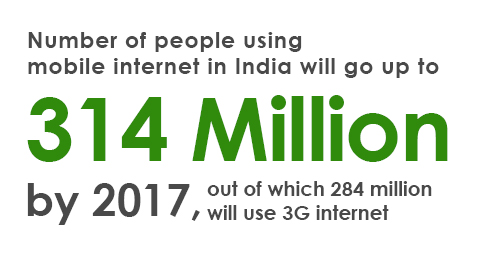 There is also a study by the Internet and Mobile Association of India (IAMAI) in collaboration with consulting giant KPMG, titled 'India on the Go – Mobile Internet Vision Report 2017.' Released in June 2015, it is an 80-page treatise on the mobile internet market in India. It forecasts that the number of people using mobile internet in India will go up to 314 million by 2017, out of which 284 million will use 3G internet – nearly 90% of the mobile internet user population.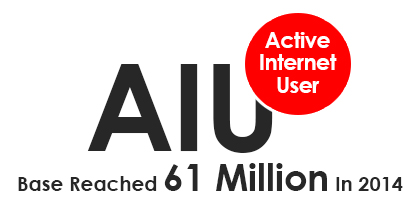 Rural India is a key player in this movement, and what is truly reflective of the incredible change in the socio-economic dynamic in rural India, is the fact that by 2014, the number of mobile internet users in India had risen to 4.4% of the total rural population of 905 million - a 1,000% increase from 2010. Besides, the AIU (Active Internet User) base reached 61 million in 2014, close to 7% of the total rural population.
This is what Ashwin Vellody, Partner at KPMG and co-author of the report, had to say about the projected numbers: "The key factors that would lead to this (mobile internet usage) growth are initiatives by the government, collaborative ingenuity of Mobile Internet ecosystem and innovative content and service offerings from mobile based services players."
The near-unanimous consensus of industry experts, thought leaders and leading reports seems to point to a massive growth in smartphone-enabled internet usage, with the majority of the growth happening in rural India. While urban users will continue to migrate to 4G networks in search of more powerful connectivity, the sheer numbers in rural India hold massive potential in terms of scale.
Businesses will have more people to market to, higher accessibility, improved lines of communication and more effective channels. It needs to be remembered, however, that the demographic of users in rural India is very different from its urban counterpart, each region replete with its own specific needs and culture.
India is also witnessing unparalleled growth in low-cost internet devices, with the latest on the bandwagon, Ringing Bells – a Noida-based smartphone manufacturer – offering smartphones at a ridiculous 250 INR. Augmented by Modi's Make in India initiative and other regulatory subsidies for startups and mobile apps, it's a good time to be in India, if you're in the internet or mobile app business.